I haven't mentioned that the city clerk's son is on the city council- and that her son's mother in law owns almost all the business real estate in town.
The Des Moines Register – the largest newspaper in Iowa- did a report in their watch dog section on Earling's city attorney Clint Fischer that was quite telling…
https://www.desmoinesregister.com/story/news/investigations/readers-watchdog/2015/02/13/readers-watchdog-avoca-fichter/23389525/
Considering what they are doing to me- and esp. what they did to Vaughn Gross – who put a gun in his mouth this past Christmas- it is my opinion there is more going on in this town that what people know.
What happened to Vaughn was wrong. What is happening to me is wrong as well. But Vaughn's experience tells me there is some sort of weird land grab going on.
The city clerk has lived here for three years- yet few in this town of 300 know who she is. However- as I have said- she befriended me even before I left Seattle last January.
My question is why.
As I've said- the city council approved of my dogs last January- but eight months after they tried to convict me of a crime for having them- despite the fact that a business owner in town ALSO has a pit mix that bit a neighbor's dog- requiring the injured dog to require twelve stiches- and yet he has not been required to get rid of his dog.
In fact he STILL isn't having any issues. So I guess the town's ordinances only apply to those the city council wants to target.
Although, of course, Vaughn Gross didn't have a dog. Just a house they seemed to want.
Considering I was fighting against Nazis in Washington State- which is why I moved- and Iowa just reelected a white supremist (Steve King) in SW Iowa- which is where Earling is located- it isn't a huge leap to think it may all be connected in some way to some sort of weird Nazi agenda.
At least in the way of their tactics anyway.
Just how this is all connected I am unsure of. However- if this all continues- something tells me it won't stop with me.
And they have already pushed a man to commit suicide.
I, however, will NEVER hurt myself but will fight until I am no longer able. And exposing this is something I am compelled to do.
And this type of situation is not new to me. Here is the type of stuff I have dealt with in the past…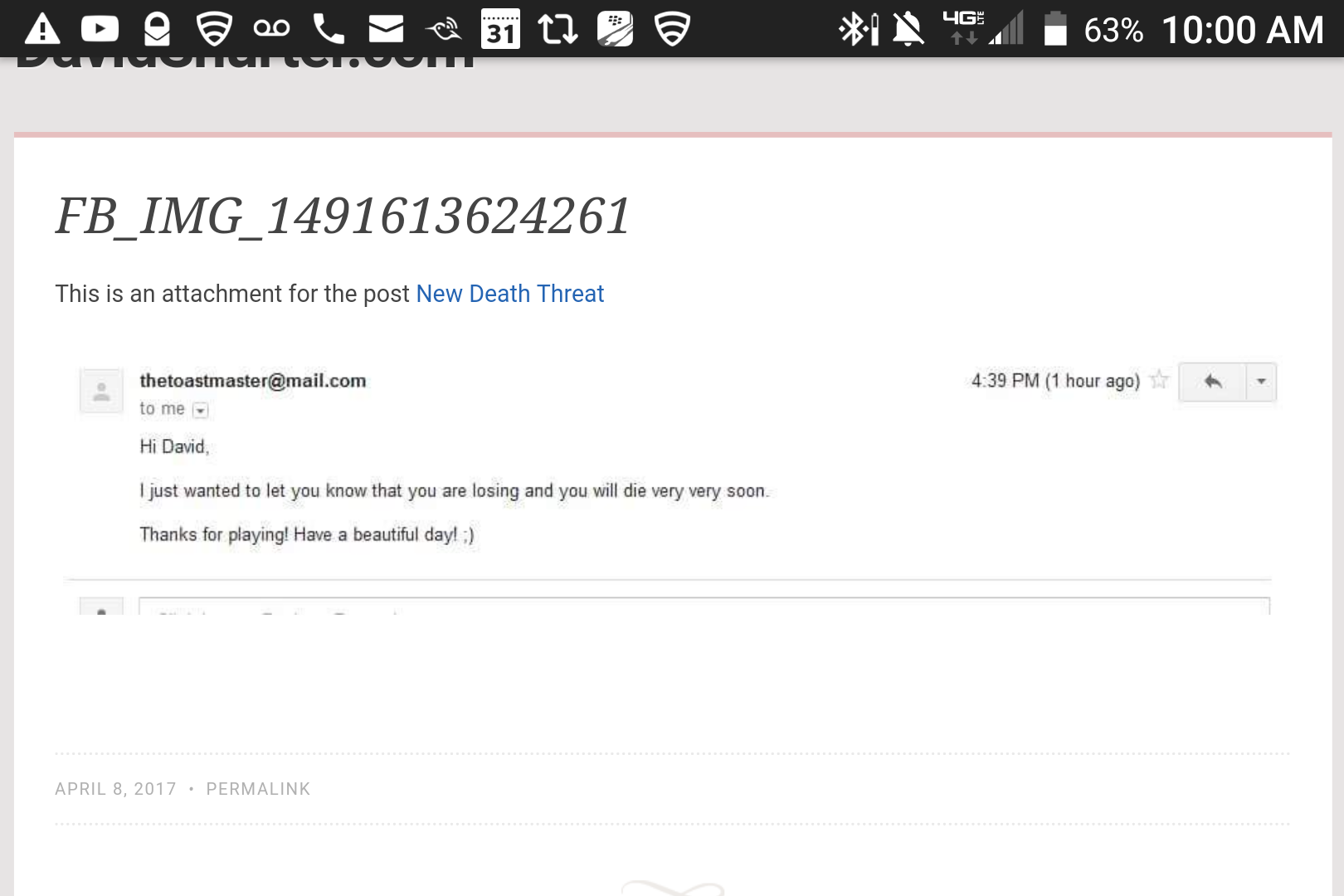 This Is The Email Exchange Between Myself and IEATBABIES Who I Believe Is Doug Mesner aka John Kilrush aka Satanic Temple's founder Lucien Greaves
And considering I have that protection order that was filed in Kent, WA (where every video listed had NOTHING to do with the petitioners but only and SOLEY dealt with Doug Mesner aka Satanic Temple's founder Lucien Greaves) and the claim I violated it that was filed in Pacific, WA by Algona WA policeman Ryan Miller- who I've written extensively on this blog about- I figure they are hoping the claim against my dogs- again filed 8 months AFTER they approved them- directly after I made a complaint to the council regarding their city clerk- will land me in jail.
At which point they will simply claim my house was abandoned- enabling them to lay claim to it.
Considering everything I have gone through trying to get my family investigated for child trafficking in Omaha in the 80s – I am just assuming all of these attacks are all connected.
Esp considering all of the emails I received directly after moving to Earling that foretold everything I went through BEFORE it happened- which I again forwarded it to the Shelby County Sheriff's office.
It isn't a huge leap to think this is all somehow connected.