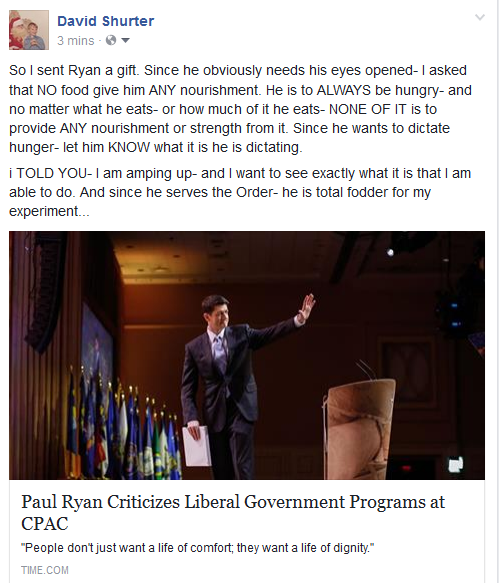 *****
Alex Jones is a shill- they have A LOT of them in this. They are controlled opposition to control the narrative of this mess. And THAT is exactly what they are attempting to do. Jones is NOT to be trusted- he reached out to me- then after he found out who I was- disappeared and NOW he only steals my shit to claim it as his own- as he did with that ranch Scalia was murdered at. Fiona Barnett had done the research and I wrote the article a WEEK before the Washington Post first "broke" the story- and THEN Jones started claiming the info came from him. IT DIDN'T- but it certainly didn't stop him from trying to insist that it did.
*****
So HoaxteadResearch posts this article about this Arthur Kaoutal about being a pedophile- and how does he respond? He compliments their writing style- saying they can convince anyone with it. So someone calls you a pedophile- and you shower them with praise? THESE PEOPLE ARE WORKING IN LEAGUE WITH EACH OTHER. It is pretty obvious- only a dumbass would fail to see it…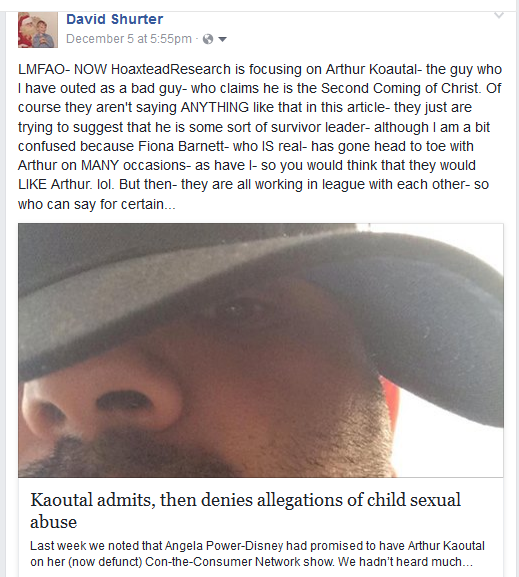 *****
Thanks everyone for well wishes yesterday for my birthday. As always, it was a day of reflection for me. Not sure where I am going- I just know things cant stay as they are. Time to double down and do what I do best.
*****
10 years ago today- after I had found myself possessed by Uriel that previous year- I was able to help him- and then, in the years right after- ALL of the Fallen- return to Heaven. It was am AMAZING honor.
Today- at 50- I realize that I have taken complete control of this matrix- and have designed my OWN to replace it. It wasn't without help- and for much of the time in my life- I had NO CLUE what I was doing- I was just doing what I was being told to do. But my Mother has been KEY in ALL of this.
Had it not been for my Mother- I would have NEVER gone back to my Father. For a long time I hated him for what had happened.
So where am I going from here? I have an idea- but who knows really. What do I want? Well, the Order has been able to turn a LOT of people away from Heaven- and I want to see if I can bring them back.
I have hope in mankind. And I DEFINITELY have hope in Heaven- so who knows- we will see what happens…
*****
For those of you who have fucked with me and then found yourself fucked- please do NOT blame me. It was NOTHING I have done. You can thank the Order for your predicament. Because while I was always in the fucking middle of a pentagram- they cast their OWN spells of protection on me- and it is THOSE spells that you are battling- and NOTHING that I have personally done. But their spells consisted of anyone who goes against me coming to very bad ends- and, as a child, I had no choice in the matter. So when you start blaming me- just realize it isn't me. But that still won't help you. Your intent is VITAL- and if you intent is to fuck me- then you will find yourself fucked. That is how it has ALWAYS worked. And I won't have to even give it a moments thought.
The Order DID come with benefits. lol.
*****
You know- I was just thinking about it and I FINALLY got why they aren't using their little microwave toys at Standing Rock. Because microwaves DO NOT do well with metal- and we have been breathing that shit in now for a long ass time- and they don't want anyone to know about it. THAT is why they aren't using their little "non lethal" toys. Interesting…
if they blow up an EMP and melt those metals in people's bodies- they will effectively bring that energy into being- and I can USE that. And IF THEY DO- THAT will be their ENTIRE EXISTENCE when this is all said and done. They will EXIST WITH THAT PAIN FOREVER.
I am SO NOT fucking around with this….
*****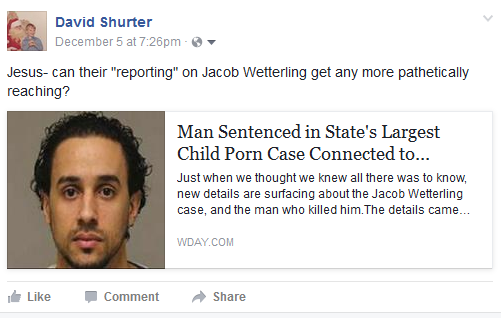 http://www.wday.com/news/4169048-man-sentenced-states-largest-child-porn-case-connected-jacob-wetterlings-killer
*****
So my friend Kellus Lee suggested that we do a fundraiser and build a statue depicting all of the children lost and hurt by this pedophile mess- and I think it is a good idea. If Mesner can raise 100.000 to build a statue that no one wants- I bet we could make one that EVERYONE will want to see.
*****
So when all of this pedophile shit came out in the 80's, it caught most people unaware and so it was easy to talk them away from it. NOW? It is much different. This time- since we are all MORE than aware- if we turn from doing something about this- the shit is on US and NOT them. Everything that is happening right now is a test, and we are being graded harshly for our imperfections. Why? Because we are CHOOSING those imperfections. Because it has NEVER been about what we do- but rather the INTENT we do it with.
It is CHILDREN that have ALWAYS been Heaven's favorites. CHILDREN ARE THE REAL CHOSEN ONES.
Turn from them- you turn from Heaven. And the consequences for that choice WILL be severe.
*****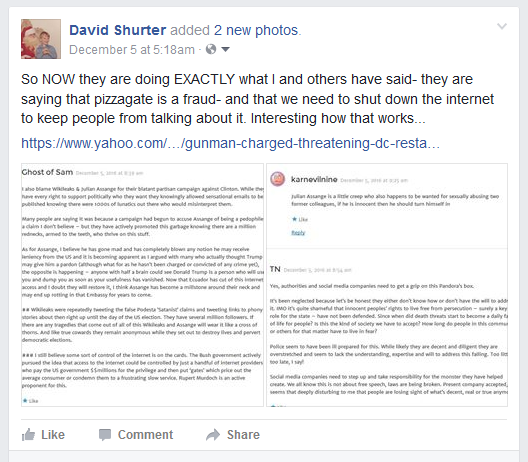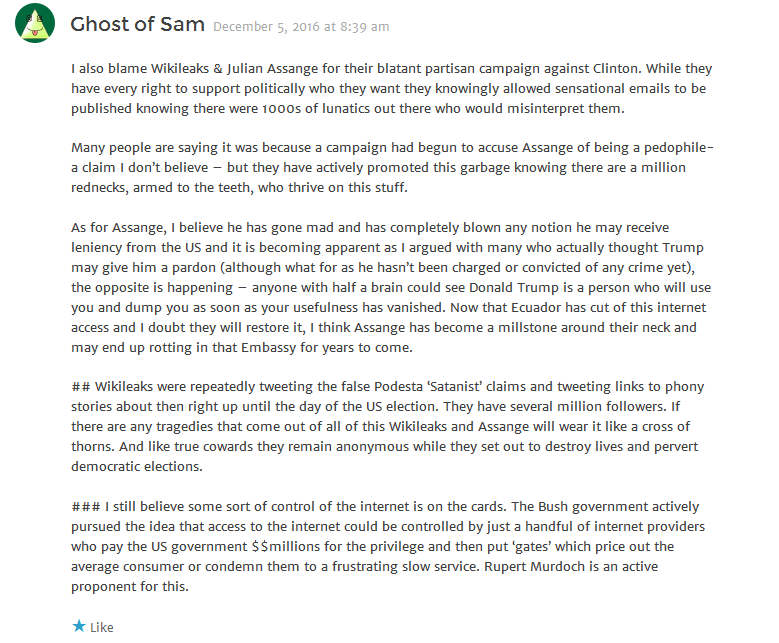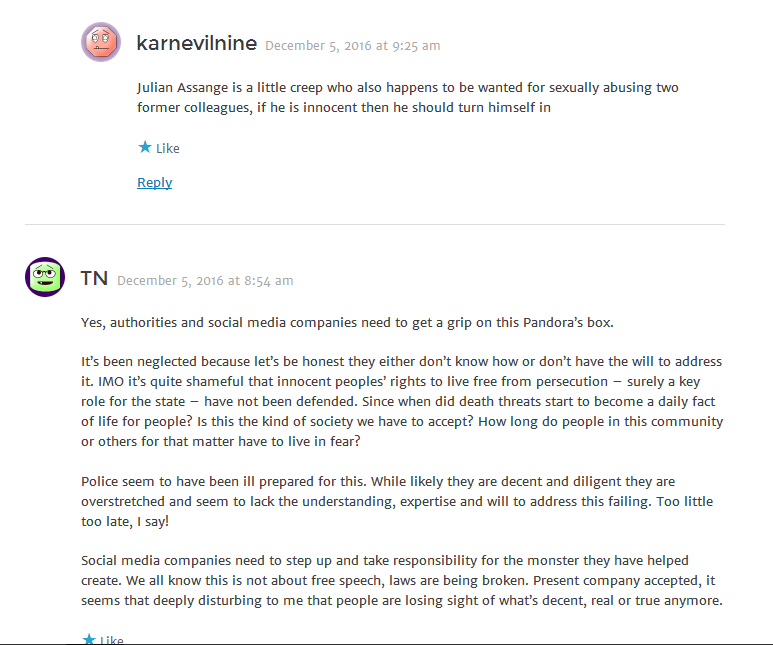 *****
So it seems- after what I have said about Jacob Wetterling- that YouTube has now made it so that I can't comment on ANY videos. I get "comment failed to post" every time I try to respond. However- no public smear campaign is going to change the FACTS of WHAT IS. And all of these insults waged against me- like I am a paranoid schizophrenic- but they NEVER say what I have done or said to bring them to this conclusion. They just don't like what I am saying- and so they insult me. It is sad.
*****
So you can see- by this article- where this whole government psych ops operation is going. Is the gunman real? Who knows. But people can identify with one if he is. Are there tunnels under this stupid pizza place? No. In fact- every lie they present IS an actual lie- they are right. But this was all set up on purpose this way. And Alex Jones is a shill. He is NOT a spokesperson that is real- but rather a government sponsored "truth" sayer- and he is fake as fuck. So if they think they are going to use HIM to justify all of this attempted take down of the internet- which is the an actual REAL news source- which is their REAL problem- is a joke. Their lies have become unable to hide with this whole internet thing. So they can spin it all they want- but if THIS is the argument they are going to run with- it is just sad. I mean- did they even THINK how pathetic they would look doing so? The game doesn't work so well when people are aware of it- and they ARE aware- and more are becoming more aware every day. And it is THIS they are desperately trying to convince you ISN'T happening. lol.
https://hoaxteadresearch.wordpress.com/2016/12/08/hoaxer-movement-in-a-tailspin-over-pizzagate-gunman/
*****