What I would personally like is if people who take up Pizzagate would ALSO take up Jerry Sandusky's 2nd Mile high club- the ranch that Scalia was murdered at- the Bohemian grove- AND the REAL Jeffery Epstein story that includes BOTH Bill Clinton and Donald Trump- and not just the facts that make them comfortable. THIS is what I would like to see. If this is real- then this will happen. Otherwise- people will just go on and on about Pizzagate until eventually IT ALL GOES AWAY…
*****
So for those of you speaking about Pizzagate and the problems with child sex abuse- Hoaxtead is now claiming the ONLY reason you are all concerned is that YOU ARE OBSESSED WITH HAVING SEX WITH CHILDREN YOURSELVES. otherwise- you would just let all of this alone…and more than that- I guess there only some 1000's of people concerned with this. I guess the rest of the world doesn't care.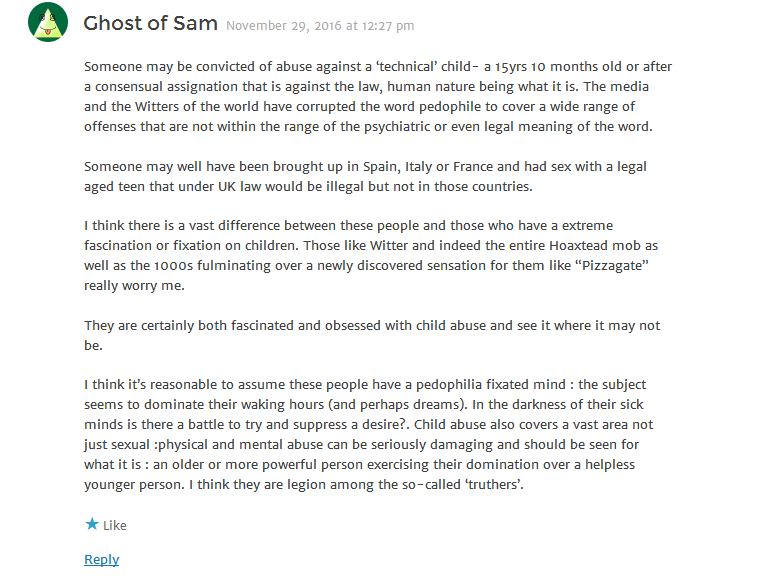 *****
lol- after 15+ yrs of saying the same old thing over and over and over and being consistent the whole time- I suggest that those of you who are suggesting I am actually a disinfo agent can go fuck yourselves.
and this has come at me on several levels- so it IS being spread…
*****
It is frustrating that people are going on and on about this pizzagate bullshit- esp now that they are trying to use Franklin as a basis for it. Hoaxtead has NOW combined pizzagate with Hampstead- and this is because they are going to use the two to make all of these allegations go away. Will they be successful? Well- after McMartin- EVERYTHING was closed down for 3 decades- so maybe. Will people fight against this? They didn't in the 80s. And NOW they are running with the SAME TYPE OF SHIT that fucked them LAST TIME- and they seem to be too dense to realize this. Stop being lead around by the nose and start using some critical reasoning. Believing an "official story" that has gone NOWHERE- is NOT logical in my opinion. But do what you will- and I will do the same….
*****
You guys HAVE to check out the conversation going on Hoaxtead… NOW they are doing EXACTLY what I ALSO said- they are going to discredit Cathy O'brien and her stupid shit to make sure ALL survivors are discredited…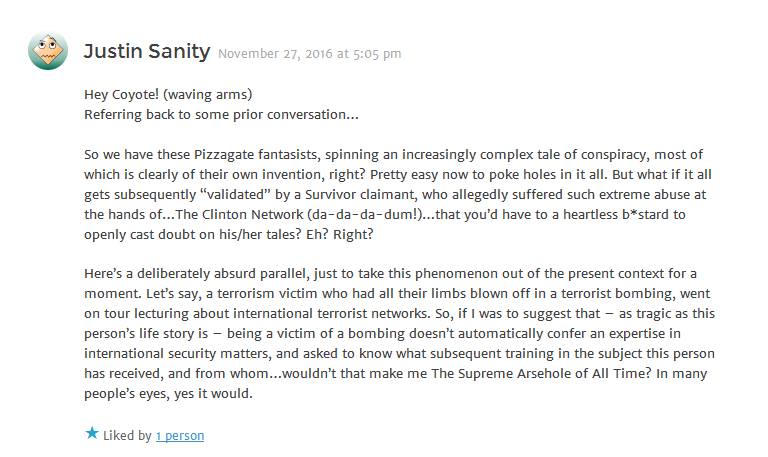 *****