Mary Gina,
My name is David Shurter and I have known ********(the mother) for over two decades now. In fact, I knew *****(the mother) before she ever met ********(the father)- so to say that I have been involved with this family's life is an understatement.
She doesn't know that I am writing this letter. I had my team of investigators get me your contact info and I feel that I need to reach out to you- to make a few things clear.
I wrote a letter 10+ years ago- at the start of the ****** divorce- detailing why I felt ******* (the father) has been inappropriate with his children. It is a long letter- and I am sure you can find it in the court documents- as, what I understand; I have my own file with my name on it with concerns to this case.
Allegations of sexual abuse- esp. concerning (the daughter) and (the father)- came out when she was 4- then 8- NOW the 14 yr old girl has come forward HERSELF to tell you that she is uncomfortable being alone with her father because he inappropriately touches her. How have you responded? By saying she is exaggerating- that (her mother) put her up to it- but regardless- basically you have told a 14 yr old girl who came to you with serious concerns that she is a liar.
And THIS is how Kentucky officials deal with children who make allegations of sexual abuse? If that is not bad enough- now I understand that you are going to put a 14 yr old who is claiming she has been sensually abused in the same room with her abuser and expect… what? For her to tell you all that she was lying? Exaggerating? What?
****(the father) is a typical example of an abuser. He has lived in Burlington for HOW MANY YEARS and STILL has NO FRIENDS or ANY contacts with the community of any sort. That is indicative of most abusers.
You claim that he needs **** (the mother) to keep him up to speed in dealing with his children- making the ex-wife RESPONSIBLE for the man she divorced- claiming that their children's problems with their father is caused by ****(the mother) maybe having conflicting facial expressions, or conflicting body language. This man was a pilot- he was responsible for 1000's of people's lives DAILY as he flew them around the country as a commercial airline pilot- but he just can't be expected to be as responsible for his children? He needs someone to hold his hand =- namely *****(the mother)- to make this work?
How often do you hold YOUR ex's hand in life? How much responsibility do you feel to HIM and his actions? Do you find it acceptable for him to blame his failing on you? Or is that just reserved for the other mother's you are dealing with?
Let me tell you something about *****(the mother). It is well known that I can't stand **** (the father)- (mainly because I don't like pedophiles)- but in all the years that we have been friends- S****(the mother) has NEVER allowed me to speak bad about ****(the father) in front of the children. In fact- we sometimes fight because she has a tendency to DEFEND the man.
****(the father)- he has absolutely NO contact with the community- but ****(the mother) works for the public schools- WITH PARENTS AND CHILDREN. But your contention is that she is the crazy emotional unstable one while ****(the father)- who lives his life as MOST EVERY OTHER PREDATOR DOES- is the healthy- stable one. This seems deluded to me.
****(the father) has stuck his hands down **** and **** (the underaged brothers) pants- *** (the underaged daughter) has accused him of inappropriately touching her- the children found a "pocket pussy" sex toy lying by his bed in his bedroom- and yet you, in your mind- can find no reason why he isn't a great father. And ****(the mother) is the "crazy" one- and yet it was **** (the father) that the children were afraid was going to go kill himself during a stay with him.
This situation is baffling to me- and it is my contention that your inept performance as the social worker you were trained to be is going to put these children further into harm's way- and so I have decided to get involved.
I am a nationally recognized child advocate. I have a blog that gets about a thousand hits a day- have an email list that is about 600 people- mostly media, law officials, and victim advocate groups- and I am going to focus on this situation and you who are involved officiating it. The child protection care in our nation is SERIOUSLY lacking- and this situation- where a 14 yr old girl was strong enough to talk about the abuse her father has inflicted on her only to be told by you- a Kentucky official- that she is exaggerating- or worse- lying- will help further show how in need of a uhaul our child care system is.
I am not going to use the children's names- but since you are a state official- I am not giving you such leeway.
You think you can call a 14 yr old abuse survivor a liar- and that there is nothing anyone can do about it. However- I can show otherwise.
And I will be giving people your contact info- and your office's contact info- so that the public can voice their disapproval.
Again ****(the mother) has no idea that I am writing this- nor can she influence what I am going to do. (ANYMORE THAN SHE CAN INFLUENCE **** ****(the father) AND WHAT HE DOES).
But in my opinion- this situation is wrong and needs to be publicly exposed. So I am about to do just that.
Sincerely,
David Shurter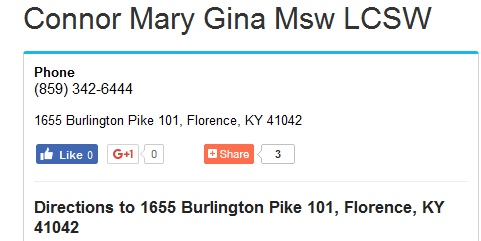 email: marygina@fuse.net