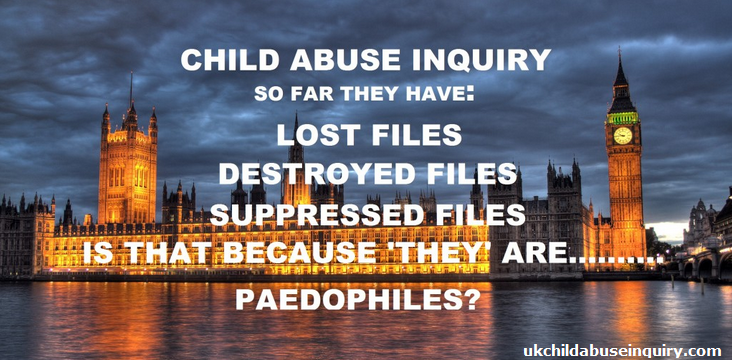 https://ukchildabuseinquiry.com/

http://yournewswire.com/judge-brought-in-to-shut-down-hampstead-whistleblower-children-satanic-abuse-case/
I find it interesting that in America- when a judge rules in favor of gay marriage, it causes an uproar. But when ONE JUDGE claims that their isn't a group of pedophiles who are being protected and says that the child victims are lying- everyone just takes her word for it.
Could the judge be wrong? So many allegations made but she determined it was all false in the span of two weeks- supposedly interviewing 16 witnesses. Considering the veracity of the claims- and the powerful and rich people who are named- could this just be a cover up? I mean- cases like this only get investigated and solved this fast on television. Usually it takes some time- and there is more than JUST ONE JUDGE doing the investigation.
Who knows. But it seems incredibly odd to me- esp. considering the claims that are coming out in the UK against so many powerful people.
http://www.mirror.co.uk/news/uk-news/vip-paedophile-files-sick-web-5379332#ICID=sharebar_facebook
http://www.mirror.co.uk/news/uk-news/ex-cop-claims-royal-paedophile-ring-5379159

http://www.exaronews.com/articles/5529/ministers-block-move-to-lift-official-secrets-act-for-csa-scandal
Cyril Smith child abuse probe: Police officer threatened
http://www.bbc.com/news/uk-england-manchester-31965044
Cyril Smith M1 arrest to be probed by Northamptonshire Police
http://www.bbc.com/news/uk-england-northamptonshire-31964255

Cyril Smith child abuse inquiry 'scrapped after his arrest'
http://www.bbc.com/news/uk-31908431
Cyril Smith: Detective claims three probes were stopped
http://www.bbc.com/news/uk-england-manchester-28338402
Cyril Smith: MP's friend made 'veiled threats' to police
http://www.bbc.com/news/uk-england-manchester-28330779
Profile: Cyril Smith
http://www.bbc.com/news/uk-politics-27170909