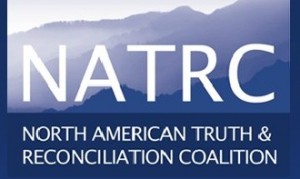 North American Truth and Reconciliation Coalition Mission Statement
The North American Truth & Reconciliation Coalition (NATRC) seeks to raise public awareness about historical and ongoing human rights violations in North America, and works to establish an accurate and truthful historical record of such crimes, including human trafficking, organized ritual crime, child soldiering, mind control experimentation and other forms of torture, in both the private and public spheres.
http://natrcoalition.org/
To find out more about our organization, and to join our discussion group, please go to:
http://natrcoalition.org/join-us/discussion-group/
At this time, the NATRC consists of three volunteer groups:
Our Coalition currently con-sists of members who con-tribute a rich blend of expe-rience, knowledge, deter-mination, and inspiration. They have backgrounds in advocacy, mediation, psy-chology, social work, and the raising of children.
Our large Discussion Group provides the coalition with practical support, ideas, feedback, and news.
Our Update Group distributes coalition news to advocacy and human rights organi-zations and coalitions and to other concerned groups and citizens through email, websites, media announce-ments, and social network-ing.
——————————
Updates:
December 19th, 2011
This month, the NATRC has added two new pages to our website:
Sybil in her own words
http://natrcoalition.org/links/sybil-in-her-own-words-the-untold-story-of-shirley-mason-her-multiple-personalities-and-paintings/
15th       Annual Ritual Abuse Conference
http://natrcoalition.org/2011/12/14/the-15th-annual-ritual-abuse-secretive-organizations-and-mind-control-conference/
We encourage people to let others know about our website and work.       Please feel free to write us to find out more about our       organization.
Sincerely,  The NATRC